Email: mofound@gmail.com
Tel: +86 (0571) 2893 5087
Mobile: +86 159 2414 2137
Skype: Realestate Mofound
www.hangzhoulease.com
23-04-2014 | 16:48:35
Wait ends for eight as Tesla delivers Model S
Business / Motoring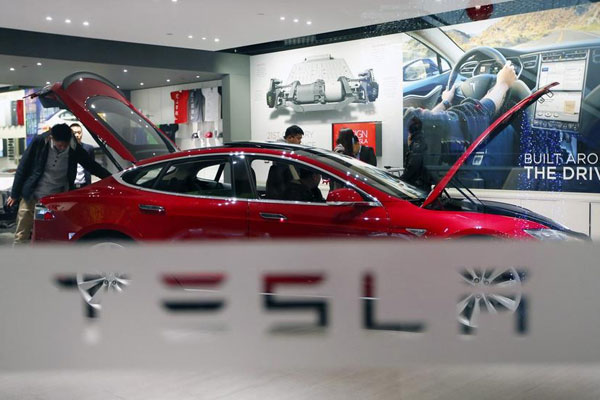 A man looks around Tesla Motors' Model S P85 at its showroom in Beijing in this Jan 29, 2014. [Photo/Agencies]
United States-based Tesla Motors Inc delivered the first eight of its Model S cars to Chinese customers in Beijing on Tuesday as it pledged to invest "hundreds of millions of dollars" on charging facilities and "hundreds of service centers" in China.
The first eight customers included high-profile individuals such the president of the Lifan football club, Yin Xidi, and the president of the Beijing-based Autohome Inc website Li Xiang.
Elon Musk, founder and CEO of Tesla, said he hoped to form partnerships with companies such as State Grid Corp of China to lay out more charging facilities, "but charging stations can also be run without power utilities. Solar panels can actually work independent of electricity. Our main goal is to make sure the power is sustainable and clean."
In terms of production in China, Musk said because of regulatory and other challenges, it might take more than three to four years, during which time Musk predicted that the California plant will reach capacity.
"By that time, rather than creating another plant purely dedicated to exports, we would rather build in local markets, whether that's in China, Europe or elsewhere, so we produce more affordable vehicles."
Musk said instead of building a dealership network, he was more concerned about service centers in China.
"Dealership is the wrong approach. Tesla does direct sales everywhere in the world. In China, we probably see more demand than we can fulfill this year. Therefore, rather than trying to amplify our sales, we want to focus on service and Tesla super-charging locations, so every owner has a great experience."
Tesla declined to release its order numbers in China. Earlier this year, Musk said that he would be quite happy if there are 5,000 orders in China this year. At this point, all he would say is that "the market is positive, and it might be higher than this number".
Tesla only got final approval from the government to import cars in January. Some customers have complained that they paid deposits as early as October 2013 and had to wait a long time for delivery.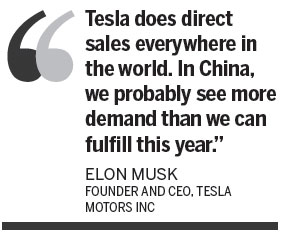 Musk explained that the company held back these cars on purpose. "We, postponed the debut in China to address all the charging and service concerns of these customers."
Customers in other cities may have to wait. Musk said the service centers will determine when cars will be delivered in cities apart from Beijing and Shanghai.
Tesla owners still need to win a license lottery in Beijing. Moreover, the cars don't qualify for any of the government subsidy programs.
Wang Xiangning, a housewife in Beijing, said the family already owns a Lexus and the Tesla will be used for her husband's daily commute.
"I can understand the delay. After all, safety is the biggest concern for all electric vehicles. They have to be cautious."
welcome to Hangzhou ! If you need realtor service, please contact with us, we are ready to help you!