Email: mofound@gmail.com
Tel: +86 (0571) 2893 5087
Mobile: +86 159 2414 2137
Skype: Realestate Mofound
www.hangzhoulease.com
15-04-2014 | 15:57:05
Shanghai zone in search of identity
Business / Economy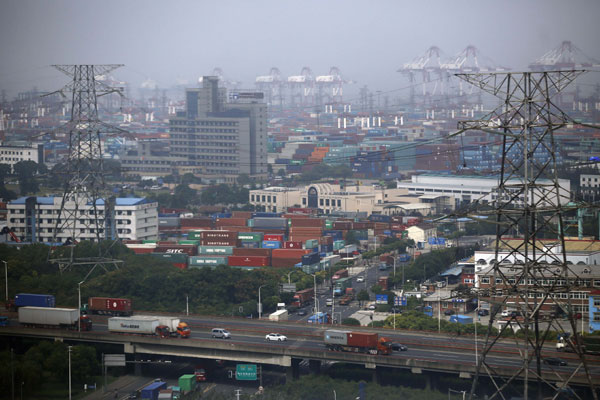 A view of an area in the China (Shanghai) Pilot Free Trade Zone. Covering a total of 28 square kilometers, the zone was established by the central government last September as a test ground for a number of economic reforms. It integrates four existing bonded zones-Waigaoqiao Free Trade Zone, Waigaoqiao Free Trade Logistics Park, Yangshan Free Trade Port Area and Pudong Airport Comprehensive Free Trade Zone. CARLOS BARRIA/REUTERS
City government seems hesitant to take role as a pioneer of policy for the nation
Whether Shanghai will become a new world financial center will greatly depend on how creative the city government can be with the liberties given it by the central government.
Part of the challenge is that Shanghai was not a pioneer in China's post-1970s reform. But the establishment of the China (Shanghai) Pilot Free Trade Zone last year put it at the forefront of the nation's financial overhaul.
The central government has pinned its hopes on the Shanghai FTZ to test policies for national financial reform and to better prepare China for regional free-trade frameworks, such as the Trans-Pacific Partnership.
Party chief Xi Jinping and Premier Li Keqiang have reiterated on different occasions that Shanghai should try out practices that will further the nation's integration into global trade.
But the Shanghai government has been taking a wait-and-see attitude.
After the first-round ballyhoo, the Shanghai FTZ has not yet excited entrepreneurs with any tangible breakthroughs over the first six months of its operation.
The main advantage is that foreign capital is allowed to enter certain fields such as finance, services, banking and shopping. And it is easier to register a private enterprise in the zone.
But Shanghai officials seem to be missing the bigger picture. If Shanghai wants to earn back its title as a global financial center, it should not regard guaranteeing freedom for some standard practices of international financial centers as a pivotal achievement.
Yes, the Shanghai FTZ administration published the first "negative list" in China last year, a gesture meant to cut government red tape. But the list contained more than 1,000 banned areas. Thus, paradoxically, the local government is aiming to reduce bureaucracy in a bureaucratic way.
"More troubling is that few details were given at all," the Economist magazine commented in one article about the Shanghai FTZ.
welcome to Hangzhou ! If you need realtor service, please contact with us, we are ready to help you!